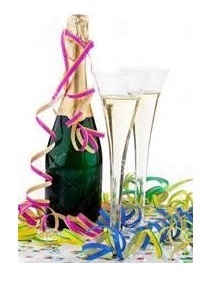 All year long we make it a point to help our clients invest in preparation so they can shine whenever they present.  The holiday season is no exception.
This month, we'd like to once again help you Confidently Step into the Toasting Season knowing that you may want to share a few thoughtful, humorous, or inspiring words with your family and friends during your special celebrations.
Because we know how hard it is to come up with just the right words on the spot, we dedicate this month's tip to bringing you a few more ideas that might help set the tone for your next celebration…
When Toasting the Season with Family and Friends
"To Greg, a dear friend, great host, and terrific cook!  Thank you for this fabulous meal."
"Health to you, wealth to you, and may you rejoice in the best that life can give to you."
"Life overflows with goodness.  Enjoy as much of it as you can."
"Something tells me that magnificent things are ahead for you… and all of us…"
"Though times have been rough, let's celebrate our spirit of determination and resolve!"
"To Sue, as she accomplishes one goal, (state the goal), and begins the task of seeking out new ones.  May continued success and happiness follow you through each and every endeavor."
When Toasting the New Year
"As you slide down the banister of the New Year, may the splinters never point the wrong way."
"Wishing you a year filled with roaring laughter, crazy joy and unlimited hot coffee."
"May all your troubles during the coming year be as short as your New Year's resolutions."
"In the words of Benjamin Franklin, 'Be always at war with your vices, at peace with your neighbors, and let each new year find you a better man.'"
"In the New Year, may your right hand always be stretched out in friendship, never in want."
From all of us at 2Connect, we wish that all your joys be true joys and all your pain be from Champagne!