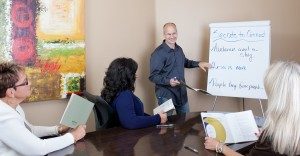 Newer isn't always better. While there's a time and place for that rock star slide deck, sometimes old school flip charts are where it's at. Have some trepidation around integrating high-tech and low-tech? Here are 5 quick tips to address the most common obstacles to using flip charts or whiteboards.
1. I don't know when I should use them. Where do we begin? To share one compelling statistic to engage your audience, to capture your audience's input or perspective, to draw a diagram in response to a question, to elaborate around content on a slide.
2. No one else in my company uses them. Great! That means you will stand out while also facilitating connection between you and your audience.
3. I'll forget what to say if I just have flip charts. You can write quick reminders to yourself in pencil on the flipchart. You'll see them and your audience won't. All they'll see is that you know your stuff.
4. The group is too big. Maybe not. If you write big, use dark colors and keep it simple, flipcharts can work for groups of 50 or more.
5. A lot of my presentations are virtual so old school flip charts and whiteboards aren't an option. But they are! Many virtual meeting platforms include a whiteboard function where the host, and sometimes participants, can write ideas and brainstorm.
Flip charts and whiteboards are timeless tools for effectively conveying information and skillfully connecting with your audience. These low-tech options deserve a spot in your 2017 presentation toolbox.
Grab a marker, step up to the board, and stand out from the crowd by bringing old school back in your next presentation.