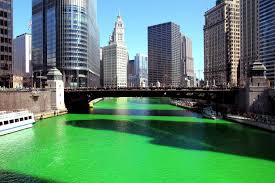 It's not luck that turns the Chicago River green each year on the Saturday before St. Patrick's Day – it's a crew of 6 people, 2 boats, 3 flour sifters and 40 pounds of environmentally-friendly orange powder.
As Benjamin Franklin noted, "Diligence is the mother of good luck."
Whether dyeing the Chicago River or preparing your next presentation, the right kind of planning gets you closer to that pot o' gold. Use these 3 strategies to bring "luck" to any presentation:
Prepare – no lucky charm can replace thorough preparation. Know your audience and core message and develop your storyline around that.
Practice with Feedback – don't leave it to chance, get feedback to help you improve. Tap a trusted colleague, or DIY by grabbing your smart phone and recording yourself.
Think through questions in advance – leprechauns won't keep the hard questions away. Brainstorm questions the audience is likely to ask, and prepare to deliver clear answers.
Preparing, seeking feedback, and identifying audience questions helped U.S. businesses capture a record $5.3 billion in St. Patrick's Day spending last year.  Practicing these same strategies will bring the "luck" of the Irish to your next presentation and make you more popular than a pint of Guinness on March 17th. Cheers!