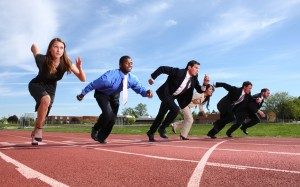 We know summer is approaching when we see the fitness magazine covers while in line at the grocery store. It is amazing how many one-minute exercises there are that will get you beach ready.
While I have my doubts about those exercises, I can tell you there are some results guaranteed-exercises that you can do in the hallways at work that can make a difference in your presentations. If you experience any of these common delivery challenges, give these exercises a try (workout attire optional).
Weak Gestures: Sometimes we don't feel comfortable taking up space with our gestures when we present.  The result?  Our gestures can seem weak and we don't convey confidence.
Exercise: In your day-to-day conversations,practice moving your elbows away from your body. When in meetings, think about putting your elbows on the arms of the chairs versus by your side. When you get up on stage, you'll find yourself feeling more comfortable taking up space and using stronger gestures.
Filler Words: Um, you know, okay, uh – we all have them. If we say them too often, they can be distracting – or worse yet, frustrating for the audience.
Exercise: Ask a friend or colleague to let you know whenever you say filler words throughout the day. A tap on a desk or a pencil raised can start to create awareness. Once you have awareness, then you can practice replacing those filler words with a pause
Rocking & Swaying: Rocking from one side to the other while presenting makes it harder for your audience to focus and engage. They can get distracted by your rocking, question your confidence and ultimately miss your message.
Exercise: Practice standing solid on both feet during casual conversations, in hallways, or while waiting in line. Chances are if you do this on stage, you also do it in the hallways. The more you practice in low risk situations, the more natural you'll feel standing solidly in front of a group.
Whatever the season, exercise is good for our bodies – and our presentations. While these exercise tips won't get us bathing suit ready, they will shape up your next presentation by targeting common delivery trouble spots.