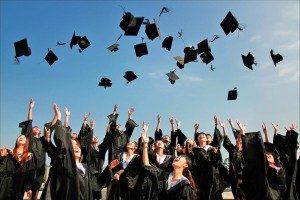 It's that time of year when proud family members and friends fill the sea of folding chairs, use program fans to fight the scorching sun, and hope the commencement speaker ignites inspiration, not watch-checking.  If this will be you, let's hope the speaker includes a few of the critical elements that spark action in any presentation:
Theme – Does the speech have a clear and compelling subject, or topic?  The theme should be the core message that ties all other information together.
Relevance – Does the speaker get their audience?  Whether the faces looking up at the podium are nervous about high school, or preparing to launch into the world with a new degree, knowing the audience and delivering relevance helps to connect.
Simplicity – Is the speech simple to comprehend, or unnecessarily complex?  With an audience itching to bust out their smartphones, simplicity is key.  Steve Jobs recognized this when he said: "Today I want to tell you three stories from my life.  That's it.  No big deal.  Just three stories."
Careful attention to theme, relevance, and simplicity are all trademarks of good commencement speeches, but they're not limited to graduation day. Incorporating and refining these elements in your next presentation will yield a more engaged, and an appreciative, audience.
Hats off to this season's new grads.